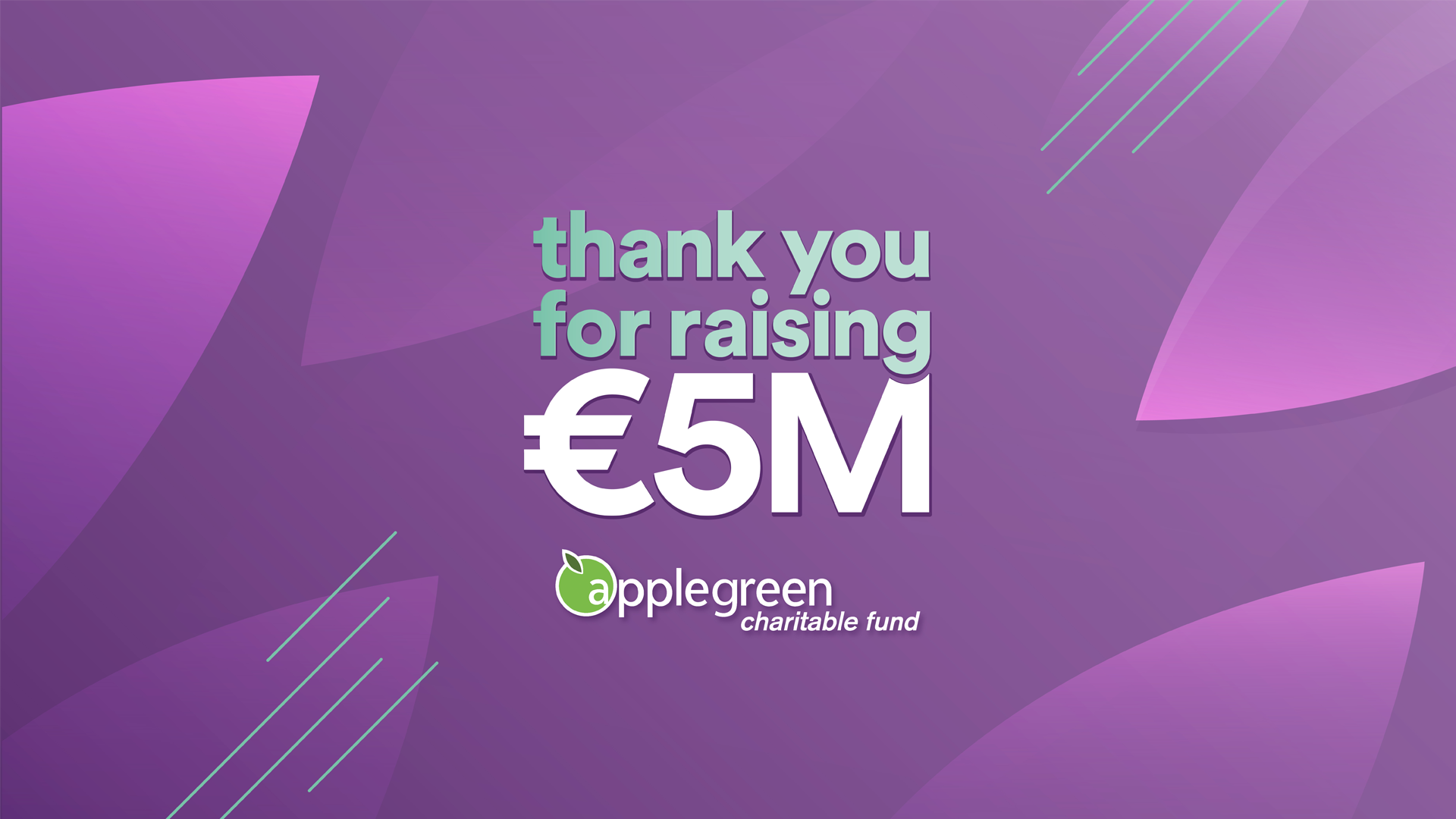 The Applegreen Charitable Fund reaches €5 Million
Staff and customers to the fore in fundraising effort
Double donation December to launch in-store this week
Monday, 28th November: Applegreen has today announced that the Applegreen Charitable Fund has reached the incredible amount of €5 million. Supported by customers and colleagues, the funds are raised by ongoing fundraising activities throughout the year. Initiatives including the 'You Buy, We Give' is a prime example, where 1 cent per sale is donated by Applegreen to the fund at no extra cost to the customer.
Established in 2009, the aim of the fund is to give back to the communities in which Applegreen operates in 126 stores across Ireland. Throughout the years, many charity partners have been supported, with a particular focus on children and local communities with the aim to deliver tangible and visible benefits to the communities that Applegreen serve.
Continuing the commitment to the Charitable Fund, Applegreen has also launched Double Donation December. Coinciding with Giving Tuesday (November 29th), a day to support local causes and communities, the initiative will launch in store this week. Normal donations of 1 cent will increase to 2 cents for the month of December for every customer transaction instore.
Maintaining a close relationship between colleagues and customers is a key element of Applegreen's approach in aiming to raise funds for much needed charities and to date has resulted in over €5 Million for adult and children's services in Ireland. An incredible commitment by Applegreen colleagues and customers has been displayed throughout the pandemic and this generosity has led to an incredible milestone of €2 million being raised in the past 3 years alone.
Charities that have benefitted from the fund over the years include; the Irish Youth Foundation, Pieta, Enable Ireland, Friends of the Cancer Centre and Foodcloud to name a few. New charity partnerships will be announced by the Applegreen Charitable Fund in January 2023.
Welcoming the landmark achievement, Rosie Begley, Applegreen CSR Manager said "We are very proud to have hit this milestone figure of €5 million. This has supported a wide range of charities and initiatives all over the country and makes a huge difference in local communities. We are extremely grateful to our customers, employees and suppliers who are a huge part of this milestone. The essence of the Applegreen charitable fund is to always keep our employees and customers at the heart of what we are trying to achieve in our local communities. We are thrilled that the fund has raised over €5 million for adult and children's services in Ireland and we want to thank our customers and colleagues for playing their part to help raise these vital funds. On top of this, we are also delighted to kickstart the month of December with our Double Donation December initiative. Every purchase made in store during the month will result in a double donation to the charitable fund!"
For more information on the Applegreen Charitable Fund visit www.applegreenstores.com/charity/.